Horizontal Wall Bed 90cm Single BC 06
External size –  Width 211cm x Height 107cm x Depth 46cm – 118cm when unfolded
The bed will take mattress large single mattress 90x200cm x max 20cm thick and 16-18kg weight for the proper opening system 
The bed is sold without the mattress.
You can buy the mattress for additonal price of €199.00
All you need
… AND EVEN MORE!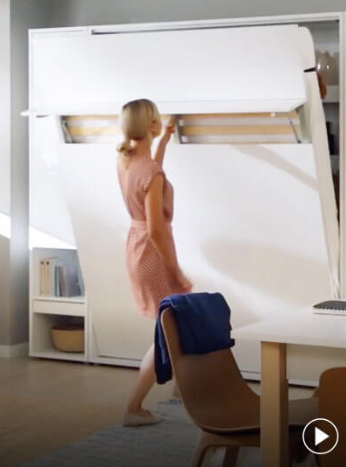 Practical shelves !!!
For books, decorations and other things you like to have at your fingertips.
Pneumatic mechanism !!!
Easy and almost silent opening and closing of the bed.
Three types of lighting !!!
Lighting under shelves, flexible reading lamps or vertical external strips.
Murphy bed in a vertical version. The bed is equipped with additional internal shelves, perfect for storing books and decorations or for putting away everyday items, such as a telephone. The furniture was awarded the 2019 Gold Medal at the Poznań International Fair.
The wallbed is perfect as a bed for a single, older child or teenager.
Our bed perfectly meets the requirements of modern times – it combines functionality, comfort of use and universal design, but the most important thing is that it is completely safe.
Advantages of a lockable bed
• The ability to freely change the functions of the room – in a few moments you can create a comfortable bedroom where the children were playing just a moment ago, where a few minutes ago you were training yoga or organized a small party for friends.
• The wallbed is as comfortable as a traditional bed – it has a rung frame, a durable metal frame and a mattress stabilizer, which guarantee a comfortable rest.
• The bed is safe, stable and durable – it has a reinforced, wall-mounted body, a metal frame and a durable support integrated with the front of the furniture. Pneumatic jacks prevent the bed from opening suddenly.
• Opening and closing the bed is easy, safe and comfortable thanks to the pneumatic lifts. Start opening the bed by clicking on the flap on the front. Now all you need to do is pull gently for the bed to slowly drop down. Folding is similar – it is enough to slightly lift the bed so that the whole thing disappears into the wall, freeing up space for other activities of the household.
• The soft close system makes the closing of the bed almost silent.
• The bed is equipped with practical straps that fasten the bedclothes, thanks to which the duvet and pillows disappear with the bed. You don't need extra bedding storage space.
• High quality. Depending on the color version, the bed is made of high-quality laminated board and MDF resistant to scratches, damage, moisture and high temperature. The bodies and fronts are finished with a durable ABS edge. The supporting mechanism and the bed frame are made of metal, which directly affects their high durability. The rung frame is made of wood, and the handle is made of natural leather.
• Minimalistic design and universal character – the bed is available in various color versions, thanks to which you can flexibly match it to other furniture in the room and various interior arrangements.
• Possibility of retrofitting the bed with BC-07 and BC-08 shelves and LED lighting in three versions.
Our Wall Bed will be perfect for:
• a small family apartment
• a studio apartment occupied by a single or a couple
• a senior's apartment
• a children's or youth room
• student room
• an office where you sometimes spend the night
• guest room
• and in all rooms that combine the function of a living room and a bedroom on a daily basis or on holidays
BED CONCEPT is sold without a mattress, while the structure of the bed allows it to be combined with any mattress up to 20 cm high and weighing up to 12 kg. We recommend using mattresses with springs or bonnells.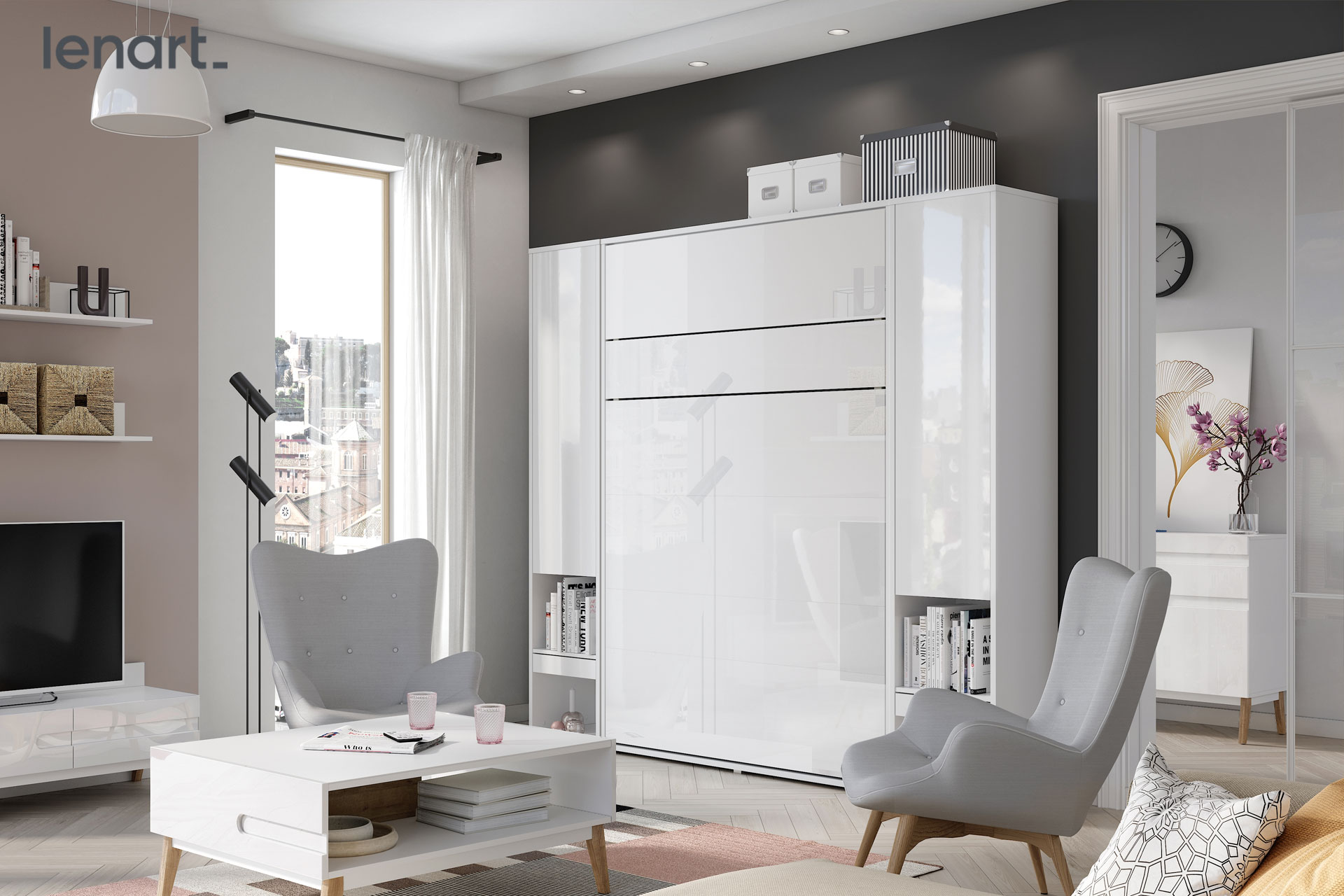 White Gloss
White Matt
Grey
Oak
LED Strip
Shelves Lighting
USB LED Light
External strips for vertical wall murals are a source of diffused light that creates a cozy atmosphere.
Lighting under the shelves with an induction switch and dimmer allows you to easily change the light intensity.
The flexible reading lamp also has a practical USB socket – perfect for charging your phone overnight.
Wall Bed Mattress 16cm + €199.00
Assembly and wall mounting…
Wall beds must be fixed directly to a solid structure such as brick, concrete or a solid timber frame. Wall beds must not be fixed to a plasterboard or similar unless there is a solid structure underneath it. Wall fixings for your specific type of wall can be purchased at a local DIY store.